GMC Sierra 2500 is the Workhorse Built for Texas
Nothing says Texas like a heavy-duty pickup from Lewisville Autoplex.  The 2020 GMC Sierra 2500HD is built to handle any job you have, no matter if it is at your worksite in Dallas or your ranch in Garland.  Its power can help you accomplish anything, while the high-tech cabin offers a quiet spot to recover from your hard day at the office.
2020 GMC Sierra 2500HD is customizable to fit your need, from lifts to bed size.  With five trim levels to choose from, the possibilities are endless for your 2020 Sierra 2500 HD.
Rugged body and Powerful Performance
The 2020 GMC Sierra 2500HD is powered by a hefty 6.6-liter V6 and 401-horsepower.  Or pick the monstrous 445-horsepower Duramax Diesel V8 paired with the reliable Allison 10-speed automatic transmission.  That kind of power makes you able to tow 14,500 pounds with a hitch.  Opt for a 5th-wheel and you'll be able to pull 16,550 pounds.  It doesn't matter if your trailer has horses, cattle or rebar, you can trust your GMC Sierra 2500 to haul your load.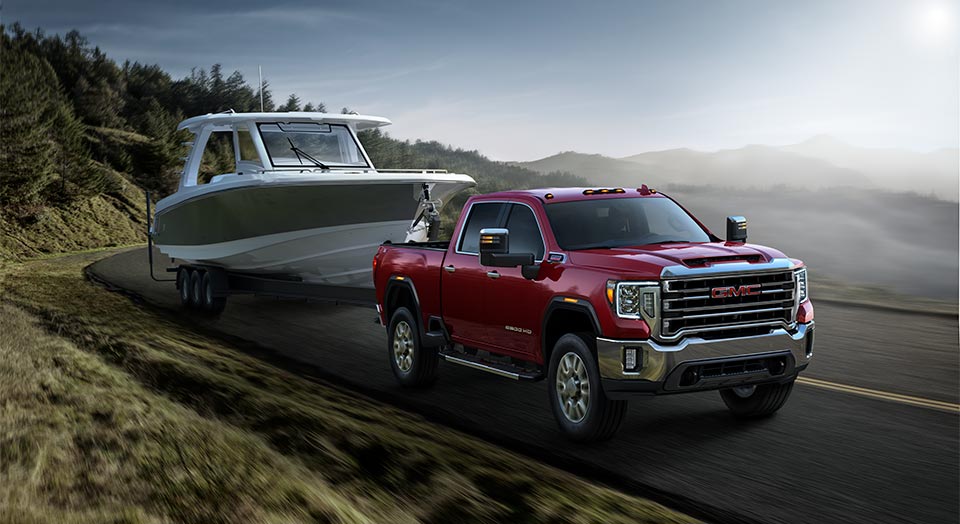 Get more use out of your truck at the work site, than just using it to tow.  The first-of-its-kind  MultiPro tailgate, is the most functional tailgate available.  Not only does it serve as a traditional tailgate, it can transform into steps, folds down for easy access to the back end of your truck, folds up into a load stop, another fold turns it into a desk top.
Put Your GMC 2500 HD to Work
There is no truck around that can match the power and versatility of the 2020 GMC Sierra 2500HD.  Visit Lewisville Autoplex in Lewisville to catch a glimpse of this super powerful workhorse.  Add on the lift kit and it is ready to accomplish anything.  Test drive the 2020 GMC Sierra 2500HD and get to work.