Lifted GMC Trucks For Sale in Dallas, TX
Sometimes, a regular pickup truck isn't enough to handle your needs. That's when you should go for something with greater on and off-road ability, like a lifted model. At Lewisville Autoplex, we have a wide selection of lifted GMC pickup trucks currently available for sale. Come check out inventory regulars like the GMC Sierra 1500, the GMC Sierra 2500HD, and even the GMC Sierra 3500HD. To find out what makes these lifted GMC trucks so great at tackling rough terrain, come by our dealership today and take one for a test drive.
Explore the GMC Sierra Lineup And Customize Yours at Lewisville Autoplex
Lewisville Autoplex specializes in custom trucks and can outfit trucks from the entire GMC Sierra lineup with aftermarket parts and offroad accessories. But before you customize your truck, you'll need to choose the right GMC Sierra model to build on.
There are numerous choices when it comes to the GMC Sierra lineup. Versatile and designed for all kinds of driving needs, there is sure to be a GMC Sierra that's fit for your epic ventures.  There is the GMC Sierra 1500, Sierra 2500HD, and Sierra 3500HD. What are some highlights from each of these trucks? Below are some exciting features and differences.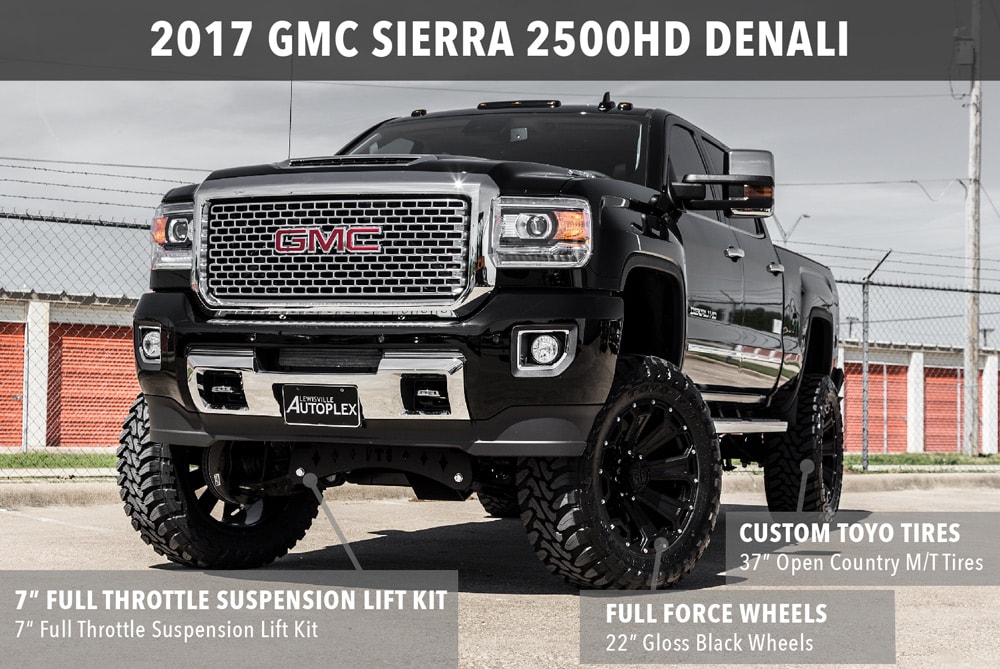 A Look at the GMC Sierra 1500, GMC Sierra 2500HD, and GMC Sierra 3500HD
GMC Sierra 1500: With the ability to tow up to 12,500 pounds, this light-duty pickup has a lot to offer. In its trim lineup, there is the Sierra, SLE, SLT, and Denali available. The Denali, however, can tow up to 9,300 pounds. This is a perfect size truck for those looking for a great option to complete their everyday workload with a truck that's easy to navigate. Its impressive towing capability and power from available engines like the efficient EcoTec3 5.3-liter eAssist V8 and 6.2-liter V8 engine make this a noteworthy choice.
GMC Sierra 2500HD: Larger and packed with more capability than the Sierra 1500, the GMC Sierra 2500HD is a dream for those needing to tow heavy loads. Standard, the Sierra 2500HD comes with a 6.0-liter V8 engine that offers impressive power, and there is the Sierra 2500HD, SLE, and SLT to consider, as well as the Sierra 2500 Denali HD. This heavy-duty truck has legendary ability with 14,500 pounds of maximum conventional trailering capacity. And if you decide on the Sierra 2500 Denali HD, it offers 13,000 pounds of maximum conventional trailering capacity.
GMC Sierra 3500HD: What's the difference between the GMC Sierra 2500HD and the GMC Sierra 3500HD? While both options offer unparalleled ability, the GMC Sierra 3500HD takes the power up a notch with its offered 20,000 pounds of maximum conventional trailering capacity.
Test Drive a Custom GMC Sierra Today in Lewisville
Although the GMC Sierra lineup may have differences, one thing is for sure, they all have iconic power and capability. At Lewisville Autoplex Preowned, we want you to drive home in the truck that you have always wanted. Are you in the Dallas, Flower Mound, Frisco, or Plano area and want a personalized touch to your truck? We specialize in lifted GMC trucks that come with aftermarket lift kits and wheels and tires. Contact us today to learn more about what we offer!