Why Should You Buy Used? Allow Us at Lewisville Autoplex Preowned Explain
When searching for next vehicle, you have the option to buy new or used, and while the latest innovations and designs are alluring, the used vehicle market fronts plenty impressive benefits you won't want to overlook.  As a used dealership, we at Lewisville Autoplex Preowned can talk your ear off about used benefits, but to make your life easy, helping you arrive on a decision faster, we've compiled a few of those enticing used advantages below:
Vehicles lose 30 percent of their value within the first year. With a used ride, you don't have to worry about your investment depreciating.
Provided used vehicles are generally more affordable than new vehicles, insurance costs are generally less too.
You get more "bang for your buck". Stretch your money farther with a luxury vehicle that's only a few years old and still boasts industry-leading technologies.
You get peace of mind with elaborate vehicle history reports.
Used cars are the best way to keep your eco-conscience happy. Hybrids and electric cars still take energy and resources to create; buying a used car is a conscious way to prevent more vehicles from wasting away in landfills.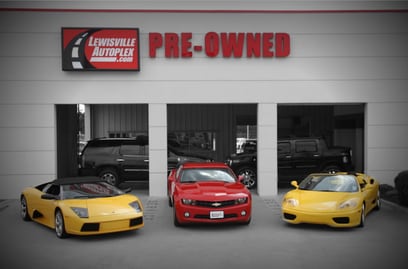 And at Lewisville Autoplex Preowned in particular, not only do you reap the basic benefits of a used vehicle but because you have access to our high-quality used vehicle and custom lifted truck selection, you benefit from promising brands like Tesla, Mercedes-Benz, Ford, Chevrolet, and Toyota. Become a confident used car driver with our help; join us here in our convenient Lewisville location, where we serve the greater Dallas, Flower Mound, Frisco and Plano region, with irresistible used vehicles.