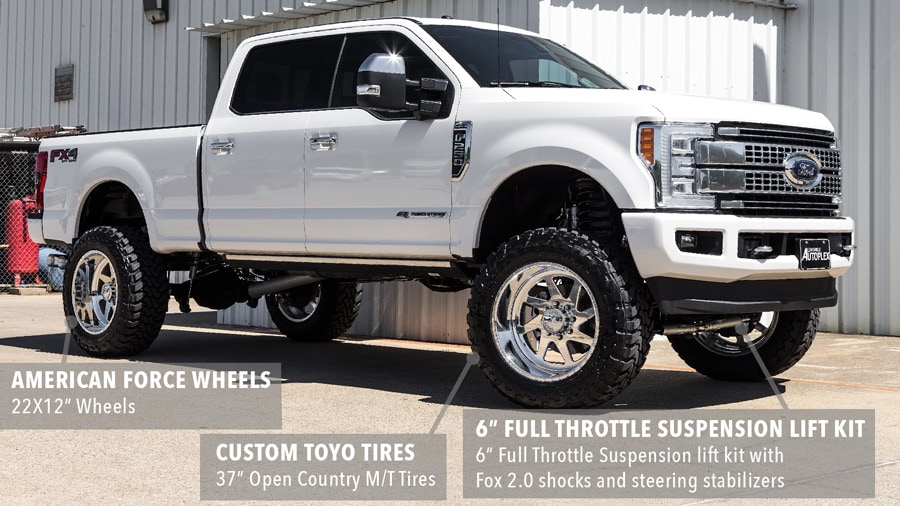 We Build Custom Lifted Trucks, SUVs & Jeeps!
Have you always dreamed of buying a truck or SUV with a lift kit? Or even raising the suspension or body on your current truck or Jeep so you can sit above the rest of traffic or plow through mud and knee deep water with ease? It's a unique operation that only a minority of drivers follow through with, and when your vehicle comes out of surgery at our shop, you won't even recognize its Frankenstein-like appearance. We offer expert knowledge and Lift Kit service for our customers who want to go the extra mile and stand out from what's normally seen on the roadways. Truck customization is our specialty and we do it all.
Our dealership offers everything you need to turn your vehicle into a lifted mud machine. From custom wheels, tires, vehicle graphics, and vinyl wraps, to custom bumper and other exterior accessories that make your ride stand above the rest. Our experts will treat your truck or SUV as if it were one of their own during the makeover process, so you are sure to receive a quality service and a superior lift kit that will make your ride stand out from the rest.
If you're looking for a change in your vehicle's performance and looks, and you don't see what you're looking or in our pre-built custom truck inventory, then allow us to customize your vehicle for you! You pick out the features you want and we handle the rest. You'll rest easy and be happy knowing that your truck or SUV was customized the right way by our professional technicians. For more information on creating and customizing your dream truck please contact us at (888) 868.2208 or visit our shop at 1515 S Stemmons FWY Lewisville, TX 75067. We can't wait to assist in transforming your regular ride into the beast it was meant to be.